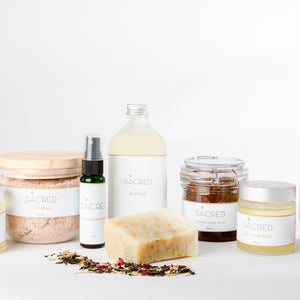 This Sacred Bodycare Range supports your daily, weekly and monthly skincare ritual needs. This Sacred Bodycare range supports daily use for a Seasonal cycle of  3 moon cycles.
Sacred Luscious Bodybutter, Sacred Deep Sleep Bodybutter, Sacred Lavender Sugarscrub, Sacred Seasonal Soap, Sacred Earthing Bath Salts, Sacred Floral Bath Salt, Sacred Mouthwash, Sacred Mouth Freshener Spray and Sacred Insect Repellent. 
Everything Sacred is nurturing, nourishing, supporting and connecting in Love all ways.