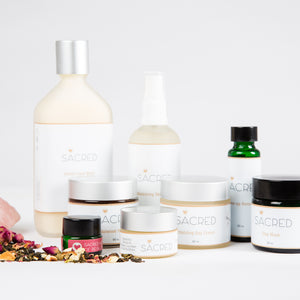 This Sacred Skincare Range supports your daily, weekly and monthly skincare ritual needs. This Sacred Skincare range supports daily use for a Seasonal cycle of  3 moon cycles.
Sacred Make-Up Remover, Sacred Gentle Face Wash, Sacred Sandalwood Facescrub, Sacred Vitalising Day Cream, Sacred Clay Mask, Sacred Aloe Vera Gel, Sacred Lip Balm, Sacred Balancing Skin Tonic, Sacred Regenerating Skin Serum and Sacred Vitalising Eye Balm.
Everything Sacred is nurturing, nourishing, supporting and connecting in Love all ways.