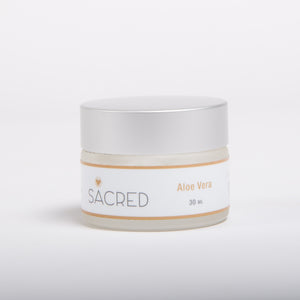 This healing regenerative organic emollient Aloe Vera Gel is the perfect base for mixing with the Sacred clay mask. Half a teaspoon of Aloe Vera Gel and Sacred Clay Mask is the perfect clarifying, soothing and hydrating support for your skin.  This Aloe Vera Gel is excellent for soothing skin irritation, sunburn, rashes or insect bites.
Organic Aloe Vera Gel, Lakshmi Manrta, Clear Quartz, Love and crafted with the Waxing Gibbous Moon invoking healing.
Everything Sacred is nurtured, nourished, supported and connected in Love all ways.