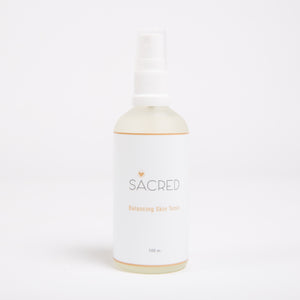 A deeply moisturising and revitalising organic tonic mist crafted from a blend of spring water, herbs, flowers, bark and crystal essences to tone and hydrate your skin. Wholeplant Connection allows a fully balanced receptivity of its Muti (sacred medicinal qualities.) This Sacred Balancing Skin Tonic is light, airy, clear, fresh and rebalancing to support skin hydration. 
A blend of Organic Rosewater, Spearmint, Lavender, Lime, Cedarwood Essential oil, Lakshmi Mantra, Rainbow Quartz, Love.  This Sacred Balancing Skin Tonic is created with the Waxing Crescent New Moon invoking clarity.
Everything Sacred is nurtured, nourished, supported and connected through Love all ways.