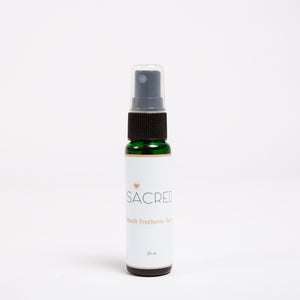 A blend of organic rosemary water, eucalyptus, cinnamon, clove, peppermint, lemon oil and colloidal silver to keep your breath fresh, and support mouth and throat health. This is anti-viral and anti-bacterial supporting clarity of health. A handy mouth tonic and breath freshener to keep in your bag. Excellent for protecting you from germy airways. Excellent protection when flying in planes.
Organic  Rosemary water, Eucalyptus, Cinnamon, Clove, Peppermint, Lemon oil and Colloidal silver, Ganesha Mantra, Obsidian, Love. Crafted with the Waning Balsamic Moon invoking protection. 
Everything Sacred is nurtured, nourished, supported and connected in Love all ways.