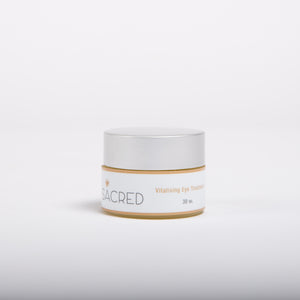 A vitalising blend of Shea butter, Coconut oil, Calendula oil,  Beeswax, Sea-buckthorn and Cucumber oil to revitalise, nourish and protect the delicate skin around the eyes during both day and night.
Organic Coconut Oil, Shea Butter, Calendula oil, Beeswax, Sea-buckthorn Oil, Cucumber Oil, Lakshmi Mantra, Rose Quartz, Love. Crafted with the Waning Disseminating Moon invoking nourishment. 
Everything Sacred is nurtured, nourished, supported and connected in Love all ways.