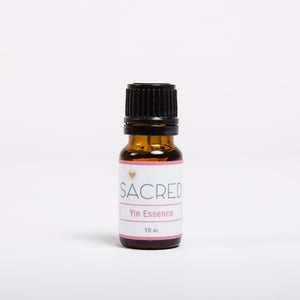 This organic Yin essential oil blend is harmonising and inspires connection to the Sacred Yin Principle. It brings harmony to the emotional body, nurturing and loving. Wholeplant Connection allows a fully balanced receptivity of its Muti (sacred medicinal qualities.) This Sacred Yin Essential oil blend is feminine, nurturing and uplifting. This is excellent support for Moontime connection.
 A blend of Organic  Lavender, Frankincense, Pink Lotus Flower, Black Pepper  and Ylang-Ylang essential oils, Lakshmi Mantra, Rose Quartz, Love. Sacred Yin Essence is created with the Waxing Gibbous Moon invoking nurturance of heart.
Everything Sacred is nurtured, nourished, supported and connected in Love all ways.